Tint Mart Strathpine
Professional Window Tinting North Brisbane
Trusted Window Tinting on Brisbane Northside
Looking for a window tinting business near you? Look no further than Tint Mart Strathpine. We offer car window tinting, commercial, office and home window tinting, plus paint protection for your vehicle.
Tint Mart is Australia's largest independently owned and operated group of window tinting stores. We pride ourselves in offering the best prices and highest quality for all your tinting requirements. Our team is reliable, professional and efficient!
Family-Owned and Operated Car Window Tinting Brisbane
Tint Mart Strathpine has been a family-owned and operated window tinting company for over 25 years. You won't find a professional window tinting business in south-east Queensland with more experience than us. Our team has consistently provided our valued customers in Strathpine and surrounding suburbs with window tinting services that:
block harmful UV rays
reduce heat, glare and fading
slash energy bills
looks great!
What our customers say
"Dropped my car in at the appointed time and was ready earlier than expected. The workmanship is first class and the finished product looks amazing. I have previously had another car tinted by Tint Mart Strathpine and sold that to my daughter. Approximately 10 years after the tint was applied, one of the window tints started to peel. There was no issue with having it fixed under the lifetime warranty. I cannot rate this business highly enough."
Mark Ashton
Albany Creek
"Absolutely amazing
Peter took on a warranty job from another tinting show that refused to help .
I highly recommend Tint mart Strathpine ,
We will be returning that's for sure.
Polite , prompt and very professional"
Karen Young
Bray Park
"From customer service to quality assurance, they are faultless. This is why i took my second car back to tint mart strathpine....thank you again for your service."
Fatu Tuialii
Bridgeman Downs
"Peter and Tanya looked after me . I asked their advice and am very pleased with the results and price . My old lady's type car now looks like a tinted cool , mean , shrunk limousine . And my duco is protected from the harshest lipstick ( In my dreams ) .
( They offer paint protection too ! ) ."
Luke S
Strathpine
"Just had Tint Mart out to our new home and they did a fantastic job tinting our windows. They look fantastic. Service time was so quick and Chris the installer was so friendly and obliging. Nothing was a bother even when he came back to do more windows. Would highly recommend this business to anyone."
Julie Matthews
Ferny Grove
"Thanks guys for a great job on my new car! Looks awesome and great efficient service as always. Also had some windows tinted on our house recently and we are so happy with the results. Such a huge difference in the temperature of the tinted rooms and looks fantastic also! Wish I'd done it earlier. Thanks so much again!"
Liana Smith
Cashmere
"I booked my 80 series Landcruiser in to have darkest legal tint installed as the 26 year old tint had turned purple, was peeling and bubbling, Looked terrible and was getting a bit hard to see out of. With the fresh tint installed I can feel an instant difference in cabin temperature. The service I received was very professional as I would expect it to be. If you want your windows tinted or you need fresh tint, go and speak to the friendly people at Tint Mart in Strathpine. I'd highly recommend them. Thanks guys."
Mark Scrivanich
North Lakes
"excellent workmanship, reliable to word. Immediatley noticed how much cooler my rooms are since installing. Great work Peter and team"
Logan Moodley
North Lakes
"I've had 4 cars tinted by Peter and the team over the past 5 years. A Falcon wagon, 2 x Lancers and a Corolla that needed the old tint removed. These guys are always polite and a pleasure to deal with. They do a top quality job at a very competitive price and give very helpful advice when deciding what tint to use for your budget and desired performance"
Colin Phillips
Burpengary
"We engaged Tint Mart Strathpine for office area tinting in our factory facility at Brendale. There are a large number of windows, their sales representative was friendly and informative. Their operational staff were well planned and considerate. The installation team did a wonderful job and were most polite and considerate during the installation. We could not be happier with the end result. The offices are much cooler and easy on the eyes. Thank you Tint Mart Strathpine, job well done !!"
Andrew Butcher
Brendale
"Excellent job done on our new house, the way some trades operated these days Wear you out with incompetent work, not with these guys, good start and excellent finish, thanks again tintmart STRATHPINE."
Mike Geeves
Bridgeman Downs
"I had my then new Kia Cerato tinted with the infinity Nichrome T35 in 2009 and it is still as good as it was when first applied. I can fully recommend them for professional service and friendly staff at a reasonable price, I am currently getting my Hyundai Getz done as well
Robert Roose"
Robert Roose
Warner
"Just had my windows tinted today and all I can say is what a fantastic job the lad did. I had a quote for 3 doors and 5 windows but decided to just get 2 doors and 4 windows done as I wasn't sure the other 2 having tint would block our view out the windows to the bush. Well I was so surprised with the first window getting done that I called the boss and said can I get the rest done and I now have all that was quoted done today. I am very happy with the tint. I will get the rest of my windows done and the car next month. Thank you Tint Mart for great service."
Marg Millar
Joyner
"Got my dual-cab Hilux tinted today, So happy with the job tintmart Strathpine have done. Extremely easy process.They were happy to answer any questions i had and listened to what I wanted. Big Thankyou to you guys and I will be recommending You to everyone I know. Cheers"
Dean Fields
Kallangur
"What great service. Peter was very helpful & helped were others wouldn't. And called back as he said he would. I will recommend Tintmart Strathpine to anyone who needs tinting."
Julie Sharpe
Bracken Ridge
"Highly recommended!!!! Very professional , friendly and helpful team!! I had originally had my tinting done at another location who did a dodgy job and wouldn't fix it properly. The team at Strathpine fixed it for me!!! Can't recommend them highly enough!!! I will be telling everyone to see the team at Strathpine. Thankyou so much Tanya and Peter!!!!!!"
Jodie Fanning
Dayboro
"Thank you to all the team at Tint Mart for tinting my car in what was very short notice. I'm very impressed with the friendly and speedy service with an equally great price. Happy to recommend your business"
Melanie Bayntun
Dakabin
"Amazing, fast and professional and John made me feel at home the moment I walked through the door, tint is absolutely incredible and would definitely recommend"
Rhiannon Small
"I am extremely happy with the exceptional service I received from Peter, John and the Team at Tint Mart, Strathpine.
My Toyota Corolla 2005 lifetime tint warranty was honoured and replaced without any hesitation even after 16 years it was installed.
Service with a Smile from Strathpine Team.
Thank you
Oscar"
Oscar Deang
Car Window Tinting Strathpine
Did you know that the plain glass in side windows does not provide adequate UV protection? By itself, glass blocks UV-B light, which reduces sunburn and tanning. But, glass still allows most UV-A radiation to pass through, which can lead to genetic damage in your skin cells, causing wrinkles, blotchiness, immune-suppression and skin cancer. All our car window tint films block 99%+ of UV light, making the interior of your car safer for you, your passengers and even slowing the deterioration of your car's interior.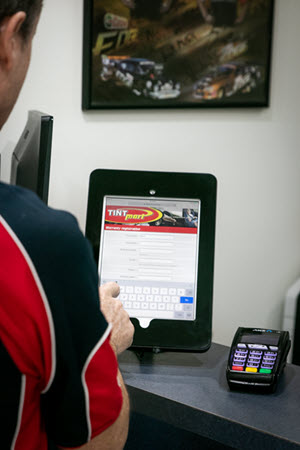 Living in sub-tropical south-east Queensland, we all know what it's like to get inside a searingly hot car on a summer day. At Tint Mart Strathpine, we professionally install high-quality window tint films that block solar energy and give remarkable heat reduction inside your vehicle. Not only will you breathe a sigh of relief when you step into a car that doesn't feel like an oven, you'll also need less air-conditioning to feel comfortable. A quality window tint film not only looks cool, it's an eco-friendly option!
We have a range of high-quality tints to suit any car and every taste, from 3M Black Chrome to the latest in Ceramic film technology. Choose a window tint shade that suits your vehicle and your taste. There's even a window tint simulator for cars to help you choose.
All of our tints are backed by manufacturer lifetime warranties, and because of our innovative online warranty system, you don't need to worry about losing your purchase receipt. We've got you covered!
Come into our Strathpine showroom and see each car window tinting film that we stock and we can even demonstrate how much heat each one blocks out - you'll be amazed!
Tint Mart Strathpine has been the #1 choice for northside Brisbane car window tinting for thousands of our satisfied customers due to our professional approach, friendly service, reasonable prices, and industry-leading installation techniques that mean we do a great job every time.
Book Car Window Tinting
Home Window Tinting Services North Brisbane
Our team of professional house window tinters has been tinting home, office and commercial windows in Strathpine and surrounding suburbs for over 20 years.
Are you struggling to see your computer screen against the sun's glare in your home office?
Are you looking for more privacy at home without the need for closed curtains during the day?
Or is it simply too darn hot in the sun-facing rooms of your house?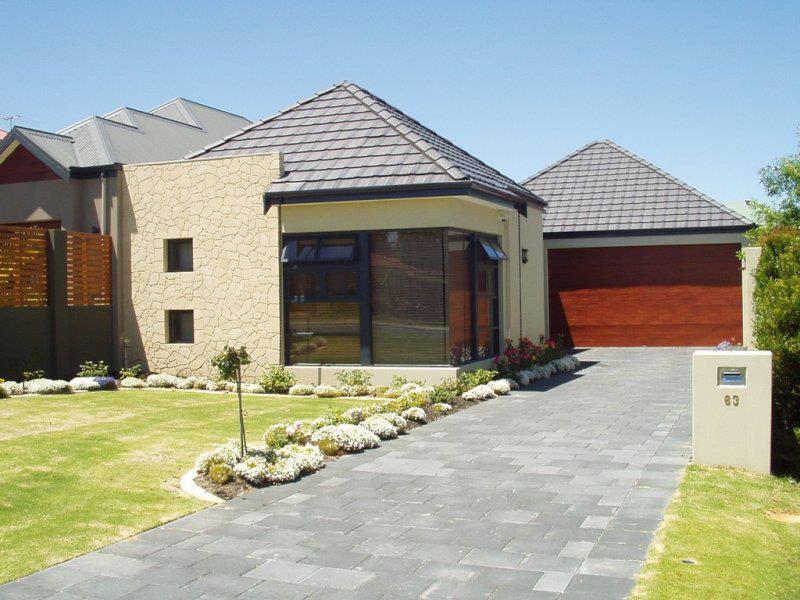 Home or office window tinting can help with all of these problems, and more! Some of the benefits of professionally-installed window film include:
100% daytime privacy
less glare - all year round
cooler rooms
reduced fading of furniture, carpet, furnishings
UV protection
We offer a range of the latest films in a variety of shades to suit your needs. We have a superior film that is right for you at a reasonable price. In fact, home window tinting can save you thousands in reduced air-conditioning bills, making it not only cost-effective, but also a more eco-friendly option.
To see what our range of quality products look like in a home setting, check out our house tint selector.
We service homes and offices throughout north Brisbane, from Cashmere to Kallangur, Mt Samson to Murrumba Down, North Lakes, and beyond. Book now for your free measure and quote - our friendly staff will come to you, obligation-free.
Home Tinting Free Measure & Quote
Paint Protection and Corrosion Prevention Brisbane Northside
We offer Infinity Paint Protection to protect your vehicle from the harsh Queensland elements. Our trained professional staff apply this leading German product by hand for a better finish and enhanced longevity. Additionally, we provide 12 months supply of Infinity Glow Wash to you at no additional cost, to boost your vehicle's paint protection and maintain your lifetime warranty. Click here for more information about our paint protection service.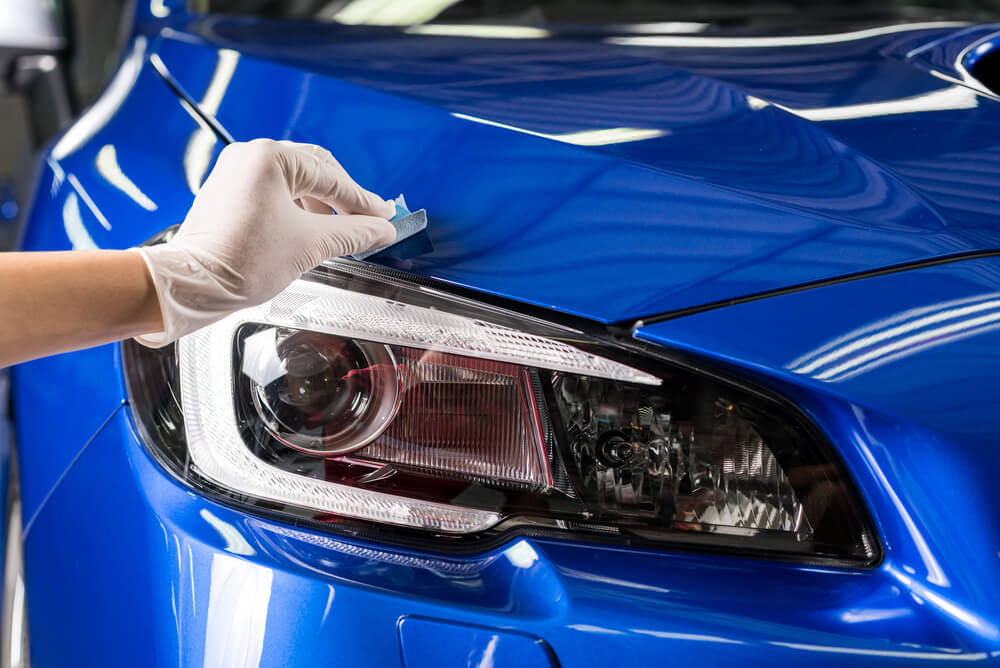 Frequently Asked Questions
What window film products do you stock?
We use a variety of window tint films from leading manufacturers, including 3M, Suntek, LLumar and Rayno. Get in touch or stop into our store to find the best window film for you.
Do your window tints come with a lifetime warranty?
Yes. All of the window tints that we use for car tinting and flat-glass (home, office and commercial) window tinting come with a lifetime warranty.
What is the darkest legal tint in Queensland?
The darkest legal tint for cars in Queensland is 35% VLT on the front side windows and 20% VLT on the rear side and rear windows. Additionally, there can be a top strip of tint covering no more than 10% of the windscreen and no lower than the topmost reach of the windscreen wipers. All tint must be less than 10% reflective. For details of window tint laws in other Australian states and territories, see our comprehensive guide to the Darkest Tint Legal in Australia [State by State].
Do I need to remove the old tint from my car windows?
No. We can remove the old tint from your car windows before we apply your new tint. What's more, our experienced tint staff are experts at removing bubbled, faded or peeling tint from car windows and are able to do it more safely than you can, and in a fraction of the time.